Top Features of the 2021 Jeep Compass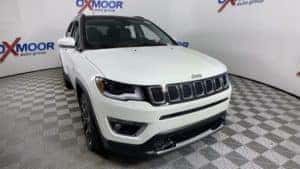 The 2021 Jeep Compass is an excellent small SUV with impressive off-roading capabilities and an eye-catching design. With plenty of cargo space, the Compass is a great choice for weekend trips away or transporting your groceries home. But what are some of this vehicle's other top features? Let's take a look.
Four-Wheel-Drive System
The Compass offers a four-wheel-drive system paired with a nine-speed automatic transmission to provide you with stability and control on all surfaces. It's available on all trims, although you'll need to pay an additional $1,500 to add four-wheel drive as an extra to the base Sport trim.
Another great thing about the driving performance of the Compass is the ability to switch between automatic, snow, sand, and mud modes. The automatic driving mode allows your Compass to direct power to the wheels obtaining the most traction, while the other modes ensure improved performance on tough terrain. If you're planning on a lot of serious off-roading, you may want to upgrade to the Trailhawk trim, which comes with an extra rock driving mode that keeps your Jeep in low gear as you maneuver over rough ground.
Contemporary Jeep Design
The exterior of the Compass combines the classic Jeep seven-slit grill with a contemporary sporty look. You can also customize your vehicle with a selection of wheel designs, ranging in size from 16 to 19 inches.
Strong Fuel Economy
SUVs designed to cope with rough terrain aren't always renowned for their fuel economy, but that doesn't stop the Jeep Compass from performing well in this department. Its rating for 2021 is 31 MPG on the highway and 22 MPG in the city. While these figures may drop slightly with the addition of the four-wheel-drive system, they still stand up well against competitors in this class.
Comfortable Seating for Everyone
Whether you're sitting up front or in the back row, the Compass offers ample space for adult passengers. The high seat platforms in the rear give better support to passengers with long legs.
The Compass is also equipped for child car seats. The rear outward seats have two sets of latch connectors, while the middle seat in the back row has a tether anchor to fix a safety seat in place.
Practical Cargo Storage
The Compass has a wide storage area behind the second row that's well-suited to most families' cargo needs. There's also a spare wheel located under the floor of the rear storage area, which is a great feature in case you run into trouble while you're off-roading. The cargo floor level is adjustable, providing flexibility for packing all kinds of gear.
The 60-40 folding rear row of seating means you can create more storage space without losing the second row of seats entirely. And if you opt for the power liftgate, you can open the rear of the Compass with the touch of a button when you're ready to load up.
User-Friendly Infotainment System
Jeep's Uconnect system is packed with features to keep your passengers entertained during long and short drives. It's also fitted with easy-to-use physical controls for audio level and climate control, which makes it simpler to adjust these important parameters when you're driving.
The standard 7-inch screen features bold graphics for a user-friendly experience. Upgrade to the optional 8.4-inch screen if you want something a little larger. You can also take advantage of Apple CarPlay and Android Auto compatibility.
Every Jeep Compass comes standard with a great-sounding six-speaker audio system. If that's not enough for you, try upgrading to the nine-speaker Alpine audio system.
Wide Range of Available Safety Features
If you choose the Compass, you can opt for various safety features to improve your security, whether you're on- or off-road. These include adaptive cruise control, rear cross-traffic alert, rear parking sensors, and blind-spot monitoring. The rain-sensing wipers are ideal because you'll have one less thing to worry about if you get caught in a heavy downpour.
To protect you from head-on collisions, you can also opt for a front collision warning system and automatic emergency braking. The automatic high-beam headlights improve your visibility, whether you're driving at night or you want more visibility for off-roading.
A Good Selection of Trims
The Compass is available in four trims, allowing you to select from a diverse range of extra features. The trims for 2021 are the base Sport trim, plus the Latitude, Limited, and Trailhawk.
If you're looking for a comfortable ride at a competitive price with plenty of infotainment technology, the Sport will appeal to you with its starting retail price of $23,895. It's fitted with cloth upholstery on the seats, and it has a 7-inch touch screen, two USB ports, and Bluetooth connectivity.
A major benefit of the Latitude trim is that it allows you to add the various optional driver assistance features previously discussed. You also get satellite radio and the option to add the premium nine-speaker sound system. For additional comfort, you can also upgrade to a power-adjustable driver's seat and heated front seats.
Opt for the Limited, which starts at $29,540, and you'll get leather upholstery and a leather-wrapped steering wheel. The power-adjustable driver's seat comes as standard, along with an 8.4-inch touch screen for your infotainment system. Optional extras with the Latitude trim include a power liftgate, power-adjustable passenger's seat, and ventilated front seats.
If off-roading is your thing, the top-of-the-line Trailhawk trim should be your first choice. Priced at just over $31,000, it includes off-road suspension, low-range gears, and a hill descent control. You can also add many of the same luxury touches to the Trailhawk that are available with the Limited trim.
So, now you know a lot more about what makes the Jeep Compass stand out. We hope that we've been able to help you decide if it's the right compact SUV for you. If you still have questions, our team here at Oxmoor Chrysler Dodge Jeep Ram is waiting to help you. Contact us today, and we'll get you set up with a Jeep tailored to your needs in no time.